How to design a lighting scheme ….. sitting rooms
How to design a lighting scheme for sitting rooms that is a calm & peaceful haven?
The prevailing trend is for open-plan kitchen/living rooms, but it's great to have another space to quietly read the newspaper, watch TV or to entertain.
A sitting room should be restful, peaceful & calm.   Our lighting designs evaluate each space to create mood lighting for all types of rooms.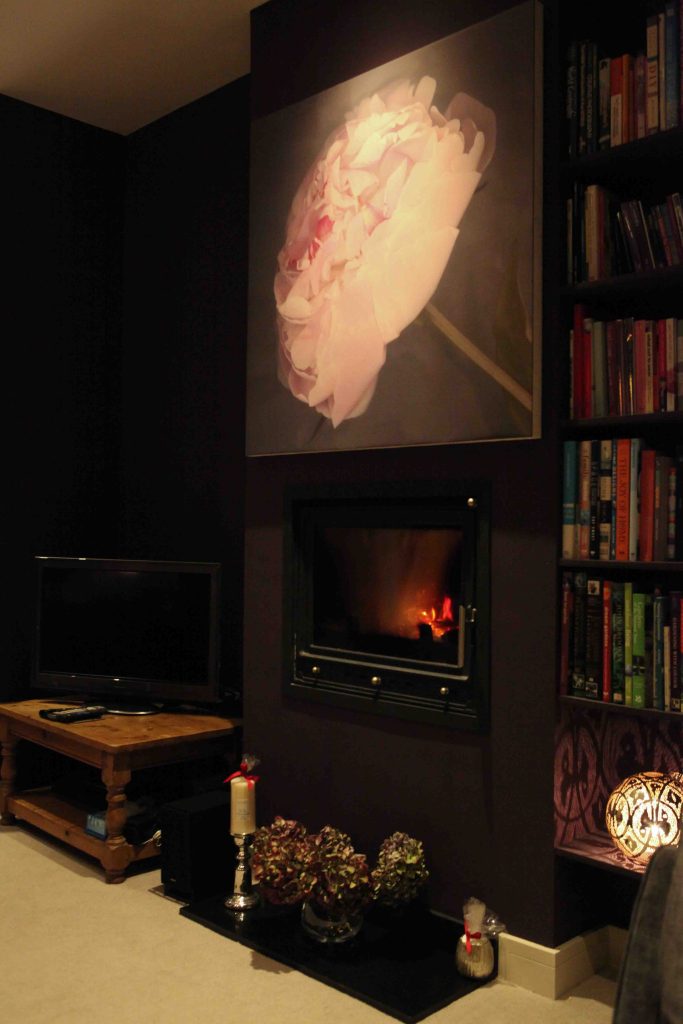 This contemporary family house is open plan.  But this wonderfully light airy house has a secret room which the clients decorated in dark colours, as a retreat from everyday life - a quiet space to watch television or read a book.
We designed a dimmable lighting scheme with various moods - brightly lit to read a book, or dimmed very low when the fire is lit.  It's a special room enjoyed by all the family.   The room is carefully lit so the dark walls remain dark.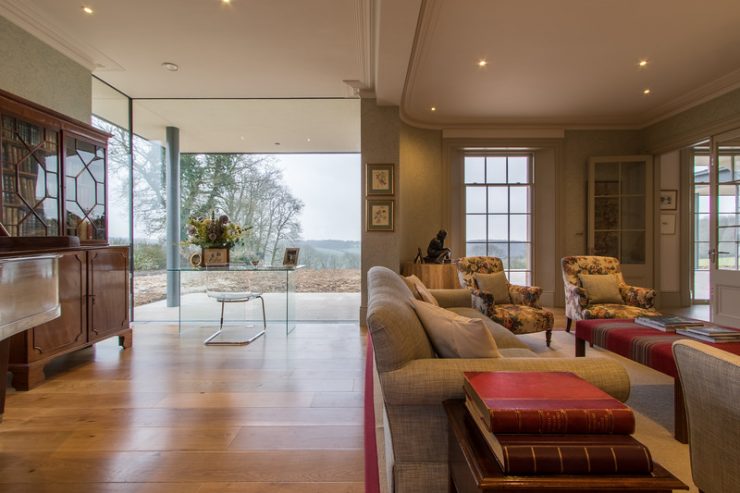 This formal sitting room is in a classical new-build house combining traditional with contemporary.  Architect 'The Classic Architecture Company' .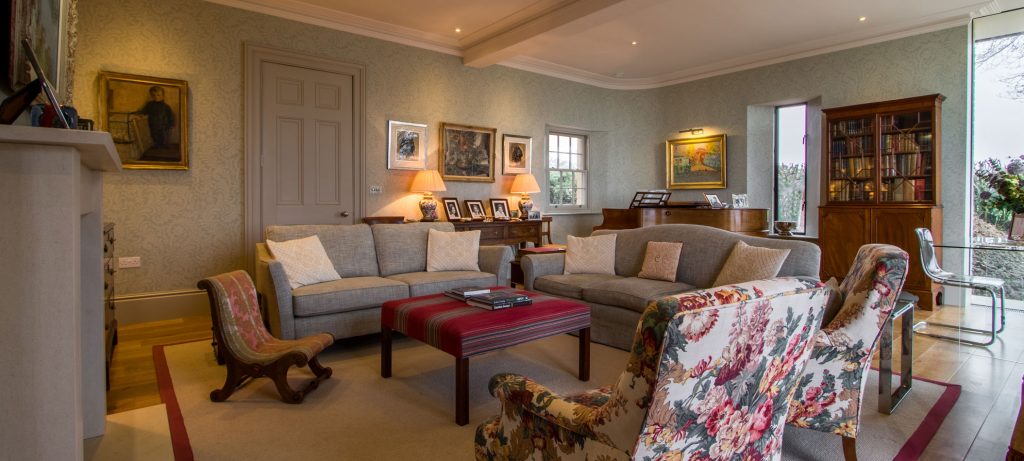 The lighting design reflects the mix of contemporary and classical.  High quality LED lighting in a warm colour (2700k) with high CRI to pick out the sharp colours of art and the interior finishes.  The recessed LED downlights were fitted with lenses and baffles to reduce glare and direct the light onto the art.  The traditional decorative lighting complements the interior design.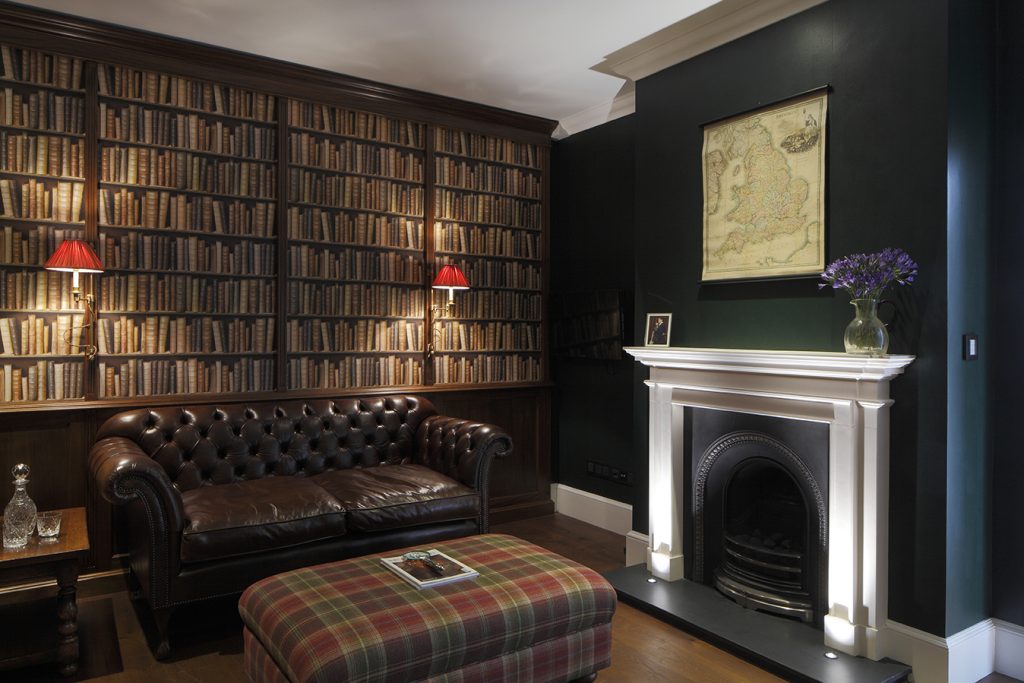 This sitting room is another quiet haven - a traditional library.  The lighting scheme retains the dark space and uses LED uplights to reflect light off the marble fireplace back into the room.   Classical wall lights on the bookcase spine accentuate the traditional look of the interior design and dark shades keep the focus on the fireplace.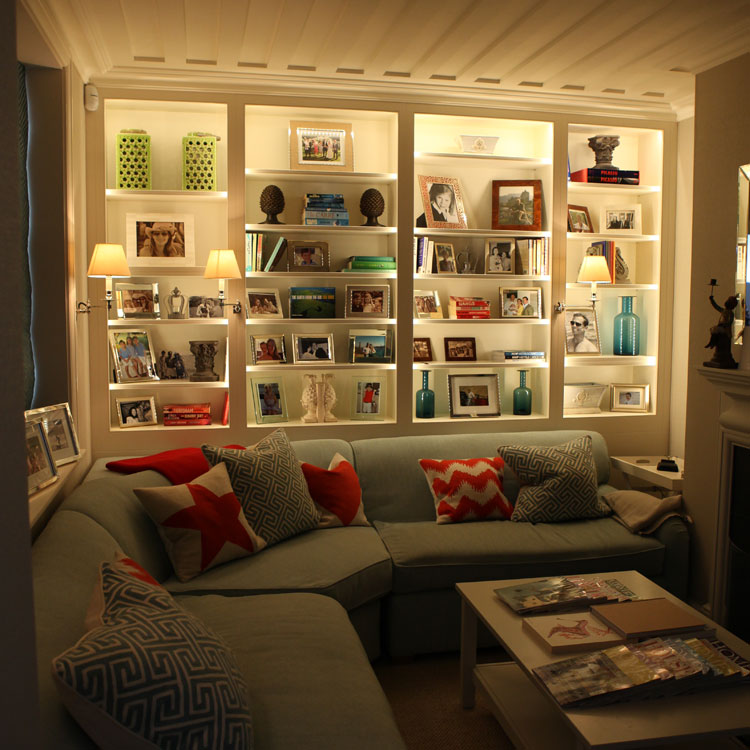 This tiny but perfect sitting room presented it's own challenges of lighting design.  Lights could not be installed in the ceiling so we combined high quality warm shelf lighting with decorative library lights on the spines - for independent & flexible lighting control.
Wall lights and table lamps are essential to a sitting room lighting scheme.  They enhance the interior design and by positioning lighting at varying heights the lighting is soft and calming.


We used these lovely wall lights from 'Vaughan' to frame the door and bring some atmosphere to this lighting scheme.  The pair of wall lights are echoed by the table lamps either side of the fireplace.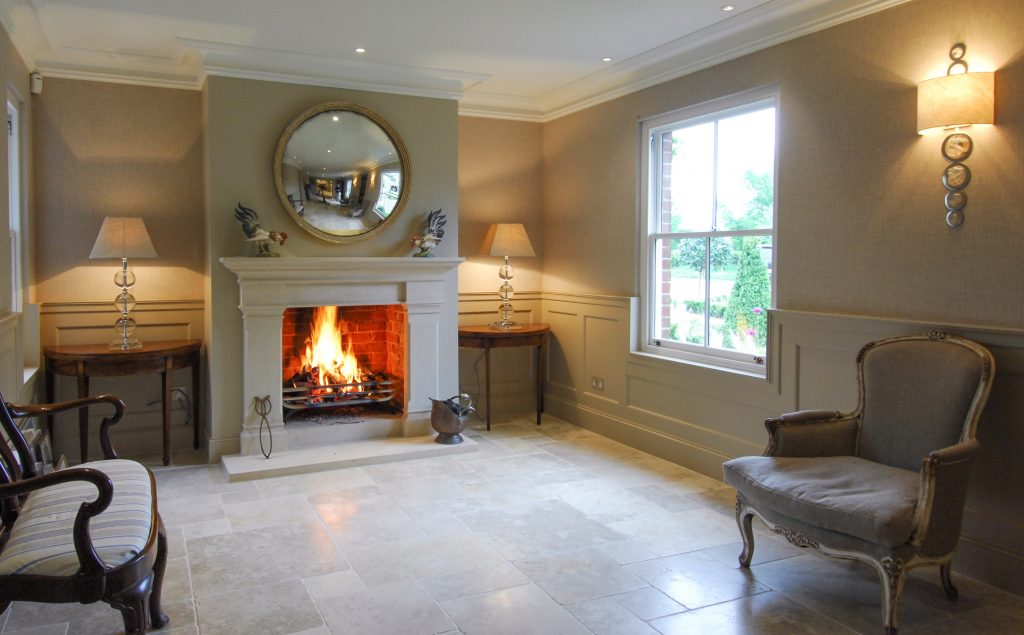 Lots of plugs are perfect for trying out table lamps at various heights - using a 5 amp circuit means they can be dimmed at a door switch plate.  We like to experiment with different shades and bases.