Owl lights up in the Alps
Not many of us have seen snow yet this year but happily this has not been the case for one of Owl Lighting's most recent clients.
Our British clients approached us to create a lighting design for their new-build chalet in the Alps.  Despite being based in Hampshire it was a challenge we relished.  Our remit was to design a scheme, for the family to use the chalet year round.
The chalet has fabulous open-plan space and glorious mountain views.  Chalets, unlike Hampshire houses, are most often used at the beginning and the end of the day.  The lighting design needed to be bright and breezy first thing in the morning, and soft & relaxing during the evening, after a day on the slopes.
To make most of the wonderful views we commissioned a statement piece for the main living space.  This thin 'Olympic ring' light created a dramatic impact without obstructing the views through the full height picture windows - to the mountains beyond.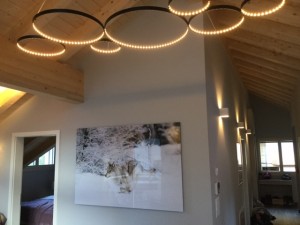 The lighting design was created to exploit different layers of light and a variety of fittings.  The aim was to enhance the flow of the chalet, and to define the areas within the open plan space.
The light in the Alps has a special quality with high reflectivity from the snow and bright clear skies .... very different from the light in Hampshire, so the design had to be very carefully thought through, and we paid a lot of attention to the colour & finish of the finished surfaces and how the lighting would reflect.
"One of the challenges was working in a foreign language - but the feedback we received from the construction team on site was excellent and the installation went without a hitch.  In fact the contractor told us that our design drawings were the clearest they'd ever worked with." Sally Stephenson, lighting designer.
All the teams worked very well together and the client is thrilled with their versatile & beautiful lighting scheme, suitable for all seasons.