Lighting Design created for award winning Helen Elks Smith – Warner's Gin Show garden at RHS Chelsea 2019
We were delighted back in October 2018 when award-winning garden designer Helen Elks Smith asked us to do the lighting design for her 2019 Main Avenue garden at Chelsea Flower Show – for Warner's Distillery.  We have created several lighting designs for Helen's garden design projects and this was a very exciting venture for us all.
Pallette
The first step was to assess the pallet of textures, features and planting that would make up the garden.  Helen's design drew on the landscape of the home of Warners, Falls Farm, with it's undulating flower meadows and botannicals used in the making of Warner's gin.   The hard landscape elements referenced Frank Lloyd Wrights iconic masterpiece Falling Water whilst also reflecting materials found at Falls Farm & in the gin distillery – stone, copper, stained glass and gin clear water falls.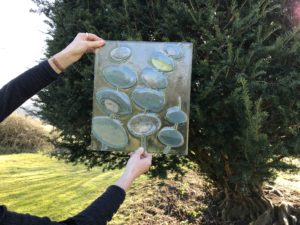 Design
A show garden is a small piece of gardening perfection and is free from the usual constraints and so our task was to distill the lighting design down to key elements of focus.
Together with Helen we decided on the stained glass, the moving water and the key planting feature; the juniper tree.
The stained glass window was a complicated feature to light – we particularly wanted to pick out the tiny air bubbles in the glass panels – created by the amazing Wendy Newhofer
The next months involved working with Dan Riddlestone of Bowles & Wyer, who were building the garden, and Helen, to test & re-test the lighting with every feature.
Owl Lighting & Dan Riddlestone - Bowles & Wyer
BUILD
Chelsea gardens are built on site over just a few weeks – beginning with a square plot of earth.  Every few days in the run up to show opening we were in Chelsea over seeing the installation by the excellent team at Bowles & Wyer.
SHOW WEEK
Finally the garden was finished and the doors opened for HM the Queen and other members of the Royal Family & VIPS.   It was incredibly exciting that the Queen personally visited the garden,  Helen was introduced and had very interesting conversation about juniper trees.
The BBC featured Helen & the garden nearly every day during the week including a long feature on the build by Sophie Raworth &  Monty Don who presented a link from the garden.
Most exciting for us, Adam Frost presented a piece on garden lighting on the Friday evening BBC1 show featuring all the lighting design we created for the garden.
Our special thanks go to designer ; Helen Elks Smith,  Tom & Tina from Warners Distillery, Dan Riddlestone & his team from Bowles & Wyer; Wendy Newhofer; and Richard Bloom photography.
All photos copyright : Richard Bloom, Elks Smith Garden Design, Warners Distillery Garden RHS Chelsea Flower Show 2019.